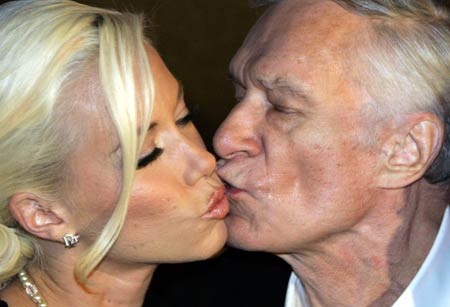 So as I was flipping through the channels last week when I happen to come across Kendra Wilkinson's E-True Hollywood story. Kendra Wilkinson starred in the hit reality TV show "The Girls Next Door" which followed the lives of Hugh Hefner's girlfriends: Holly, Bridgette and Kendra. The show was successful in showing a different side of the Playboy Mansion. A place where women were studying to get degrees, caring for pets and learning how to be successful in the corporate world.
The polygamist relationship that Holly, Bridgette and Kendra had with Hugh was loving and care-free. The fantastical world of the playboy mansion from the eighties was brought down to a much more conservative level. The relationships were so completely normal: the girls would have their own individual nick-names for Hugh, they would eat family dinners and they would usually end their nights (by their nine o'clock curfew) cuddling in bed reviewing the day. Kendra, Holly and Bridgette were plucked out of their lives and reborn into a princess fairyland.
Kendra grew up in a single parent home with her brother Colin and her mother Patty. She never knew her father, he left the family when she was very young. As she got older Patty found it hard to support two children on a single income and the family struggled financially for many years. Kendra found solace in drugs and alcohol. She was taken to a juvenile detention center on several occasions, however, it never seemed to help. Her mother found it to be very discouraging and she did not know what to do. As Kendra grew she began to hang out with the young Hollywood crowd and one night found herself at the Playboy Mansion. Hugh Hefner approached her and she became a "girlfriend". Her life changed forever.
What does it mean to be a girlfriend? Do these girls really fall in love with him and decided to date him based on their undying attraction? Do they have to sign a contract? Are there rules? Now I know this sounds fairly cynical and maybe Hugh Hefner is a wonderful man who exudes a love potion the moment that he opens his mouth, but probably not. The mystery surrounding these relationships comes down to one common denominator: how can a man who is that old have relationships with these attractive, intelligent woman? What is the deal? Kendra did address this question in the interview by saying that "they did the deed", with a quirky smile. But Kendra has also said she dated other people while with Hugh and was never in love with him, he was simply her best friend.
It almost feels like he is running a sorority for struggling girls who need a place to stay. Kendra's life would have been a whole lot different if she would never have met Hugh Hefner. But does he have to make them his girlfriends? Can't he just help them financially, let them stay in the mansion and be done with it. There is no doubt in my mind these girls love him. Not romantically, but they do like his companionship and friendship. Can't they show that in the reality show? Well they basically did they just didn't label it as such. The show rarely showed the girls being physically romantic with him besides the occasional peck on the lips or cheek. In later seasons of the show Kendra begins to date other men and eventually gets engaged to NFL star Hank Baskett and Holly was linked to magician Chris Angel while still living in the mansion as a "girlfriend".
I don't think that Hugh Hefner is a bad person who preys on young woman, I think that he gives these girls the financial stability to achieve their goals to become strong, productive women in society (Kendra is now a mother and has become a great role model for young girls). However, by DATING these young woman Hugh Hefner comes across looking like a creepy old man versus the kind soul that he probably is.