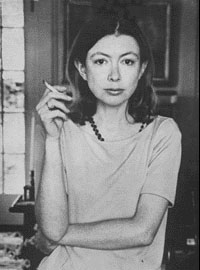 Last night I had the pleasure of hearing Joan Didion speak at an open forum at the Symphony Space on 95
th
and Amsterdam. For those of you who don't know Joan Didion, she is the author of books such as:
The Year of Magical Thinking, Play It As It Lays,
and her most recent work
Blue Nights
. Ms. Didion has had a long career writing screenplays, and fiction books, however, in her later life she has turned to non-fiction. The
Year of Magical Thinking
is about the sudden death of her husband John Dunne, and the pneumatic illness that overtook her daughter Quitana Roo Dunne. To many, she is an inspiration and a source of comfort during difficult times. Her writing has become very popular amongst young women, and is finding a new place in the arsenal of American classics.
Her answers last night were honest, blunt and sharp. She did not indulge in idle gossip or for that matter idle stupidity (one moron asked her what color pen she uses). She didn't share too much, but was still emotionally, mentally, and spiritually available to her loyal fans. She was coy but sweet, smart but witty, harsh but lovable. At only ninety pounds she was a powerhouse, who completely captivated a rather large audience. She talked briefly about how she writes, stating: "I usually do a page a day". She also revealed that she used to write at The Carlyle (her and John did). I got married at The Carlyle and have a very special place in my heart for that magical hotel. To me, The Carlyle is New York, it's love, it's fantasy and it's the perfect place to create.
As the evening drew to an end, Joan was asked if she would ever write another screenplay. One of her most cinematic works was "Panic in Needle Park", which coincidentally Joel and I watched a few nights before the talk. I was amazed. "Needle Park" is probably one of the most truthful portrayals of addiction I
have ever seen (sorry Requiem fans). It's about a group of heroin addicts that used to reside on 72nd and Broadway (not to far from where the talk was held, it's amazing how this city changes) during the seventies and how they dealt with their overpowering addictions (I would totally recommend it, if you haven't already seen it). Joan was able to create a very comprehensive narrative throughout sometimes very non-comprehensive dialogue. In response to whether or not she would write another screenplay Joan answered simply: "There seems to be no rooms available at The Carlyle anymore", a sentiment that as a struggling New York actor I can more than identify with.
Joan Didion's writing is not for everyone but to me it is simple, true and beautiful. She gives us everything on the page and asks for nothing in return except to maybe remember the moments in our lives and really cherish them. Joan talks a lot about memory in her writing, which I myself have always found fascinating (do you remember being a baby? what is your first memory?) Joan says that she started writing because she wanted to write down her life so she wouldn't forget it. By writing it out she could remember everything in its exactitude and entirety, with no embellishments or falsities. I think the idea of recording your life through the written word, in this often times overwhelming digital era, is fascinating. Maybe I will treat myself to a Christmas drink at The Carlyle and write what I remember. Exactly and truthfully what I remember…… if there's room of course! Thanks for the inspiration Joan Didion and the autograph!