EXT. A STREET IN GREENWHICH VILLAGE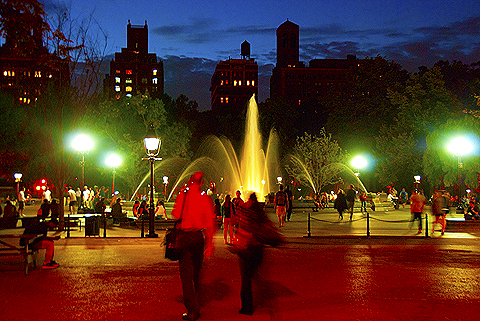 Two Upper Eastsiders, Kathy and John, are walking hand in hand.
KATHY
Wow, we haven't been downtown in so long.
JOHN
I know, right?
KATHY
I mean I haven't seen street performers, cafe's called "Tea ?", or optimism in so long.
JOHN
Yeah, I mean when you live on the Upper East Side you really get locked into a routine.
KATHY
But we have a great apartment.
JOHN
We do.
KATHY
Hey, look at this.
JOHN
Wow, people waiting in line to see live music.
KATHY
They look like they are really excited.
JOHN
Yeah, I mean they are all so shiny and sparkly.
KATHY
I know. Did florescent come back?
JOHN
I guess, and bow ties?
KATHY
Hey look at this, a book store.
JOHN
Oh my god, I thought everyone had kindles or nooks. It's so cool to see actual books.
KATHY
Let's go in.
Kathy and John go into the bookstore.
JOHN
Wow, I didn't know there were so many books about grass.
KATHY
Yeah, and look at this place, I mean it's so small and quaint.
A couple beside them are doing jumping jacks and reciting poetry.
JOHN
Look at these two.
KATHY
Ah, to be young again.
JOHN
Yup, when bills and health insurance were just things your parents worries about.
KATHY
Hey, look across the street.
JOHN
Another line.
KATHY
It's for cupcakes.
JOHN
Wow, do people not now that cupcakes are loaded with sugar and crap that could potentially make their hearts explode?
KATHY
Yeah, but they're young, they have metabolisms' faster than Usain Bolt.
JOHN
Yeah, we never used to count calories.
KATHY
I know, but the gluten free oatmeal really isn't that bad.
JOHN
Well, we should get home, it's almost 10:30.
KATHY
Yikes, that late?
JOHN
Yeah, should we cab it?
KATHY
No, let's take the subway.
JOHN
Living on the wild side.
They walk hand in hand through Washington Square Park.
KATHY
I'm tired.
JOHN
Me too. Homeland marathon and sushi.
KATHY
That's why I love you.
End.