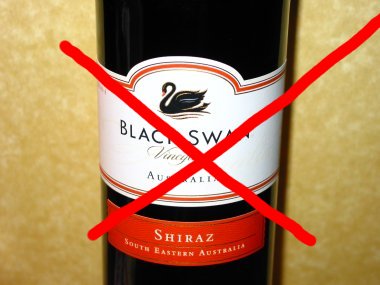 Hey Everyone, since September is National Sketch month I have decided to take part in the 30 day sketch challenge. I am going to be writing one sketch for the next thirty days. The first one is here called and it's called Swan Wine! Enjoy!
SWAN WINE
By Katie Repman
INT. LULA'S APARTMENT - NIGHT
Lula and Skylar are sharing an eight dollar bottle of Pinot
Grig they picked up after work. They're both secretaries at
Soloman and Partners.
LULA
Cheers!
SKYLER
Cheers!
LULA
I hate this job, I really hate it.
They both take sips of wine.
SKYLER
Do you hate it like you hate yellow
cheese.
LULA
Worse, I hate it like I hate Patti
Stanger.
SKYLER
Oohhh I hate her.
They both take gulps of wine and begin to refill.
LULA
You are soooo pretty, I love your
hair and your nails. Grey.....who
knew?
SKYLER
I know you should totally get your
nails done like this. I love my
grey nails.
LULA
I love nail polish, sometimes I
just want to drink it.
She pretends to drink the nail polish, and takes another sip
of wine.
SKYLER
Yeah, I know what you mean, fashion
has totally changed over the last
few years.
LULA
What?
SKYLER
Fashion.
LULA
Oh yeah fashion.
They finish off bottle number one.
LULA (CONT'D)
Should I open the two buck, or
should we just drink the wine my
grandma gave me for my birthday.
LULA AND SKYLER
TWO BUCK!
TWO BOTTLES LATER
LULA
Do you ever think about death?
SKYLER
Yeah sometimes when I am on the
subway having a panic attack.
LULA
No, I mean really think about
death, like what happens? Where do
we go? What do we do? How do we
get there?
SKYLER
Yeah, it makes me think about the
fact that I haven't really done
anything with my life...... However
I do know how to do some pretty
cool stuff with excel, that
probably not many people know how
to do...........
LULA
I know what you mean. Remember when
we used to have fun and life was
simple and all we had to think
about was what kind of shoes were
appropriate to wear with skorts.
You know when life was meaningful
and joyous. I feel like my life is
like a bad episode of friends where
instead of coffee I'm drinking
wine, and instead of friends I have
horrible coworkers who I can
moderately stand and instead of
having a cool, somewhat nerdy,
paleontologist boyfriend, I have a
dead fish.
SKYLER
Is there more wine?
LULA
No, but I have some Scope?
SKYLER
That will do.
THREE BOTTLES OF WINE (IF YOU COUNT THE SCOPE),SEVEN PIZZA
POPS AND ONE EPISODE OF JERSEY SHORE LATER
LULA
Are you jealous of me?
SKYLER
No. Are you jealous of me?
LULA
No, why would I be jealous of
someone like you. You wear clothes
that don't fit, have a blanket that
you rub all over your face every
time you get nervous and have been
known to display minor symptoms of
dyslexia. It's T-H-E-I-R not T-H-ER-
E. THEIR coffee is ready! GOD!!!
SKYLER
WHAT THE FUCK ARE YOU TALKING
ABOUT, YOU WOULDN'T EVEN HAVE THIS
JOB, IF IT WASN'T FOR ME.
LULA
FUCK YOU!
SKYLER
FUCK YOU, DO YOU THINK I WANT THIS
KIND OF A LIFE, I WANTED TO BE A
VETERINARIAN, BUT NO.... INSTEAD I
HAVE TO DISTINGUISH THE DIFFERENCE
BETWEEN A DUSTY ROSE TIE AND A PINK
AND BASHFUL TIE.
LULA
OH YEAH WELL I WANTED TO BE NATE
BERKUS'S ASSISTANT BUT WE DON'T
ALWAYS GET WHAT WE WANT.
Lula and Skyler are very close to each other and are grabbing
onto each others arms! And in unison and black swan style
they say:
LULA AND SKYLER
IT'S MY TURN NOW!
INT. SOLOMAN AND PARTNERS - THE NEXT DAY
Lula and Skyler are hung over. They are riding the elevator.
LULA
Had a great time last night
SKYLER
So did I, I love having great
friends. Same time next week.
LULA
You got it!
End.